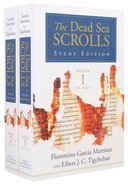 "And now, understanding one, listen to me and apply your heart to […]obtain knowledge deep within you and in your bo[dy] meditate […] with just humility pronounce [your] words; [and] do [no]t give [… nor]answer the words of your fellows, lest he prepare for you […] and answer according to your listener, as befits him. Take car[e … and do not] utter sighs before having heard their words […] excessively. Blank First hear their words and afterwards, answer with [… and with] patience bring them out; and in the midst of princes, answer correctly; and with […] with your lips, and be very careful against a slip of the tongue; … […]lest you be caught by your (own) lips [and tr]apped together by the ton[gue …] unseemly words […] from me, and they are twisted […]"
4Q525, Frag. 14 col. II, 18-28.
Garcı́a Martı́nez, F., & Tigchelaar, E. J. C. (1997-1998). The Dead Sea scrolls study edition (translations). Vol. 2 published: Leiden ; Boston.; "This book offers a fresh English translation of all the relevant non-biblical texts found at Qumran, arranged by serial number from Cave 1 to Cave 11"--Pref. (2:1057). Leiden; New York: Brill.