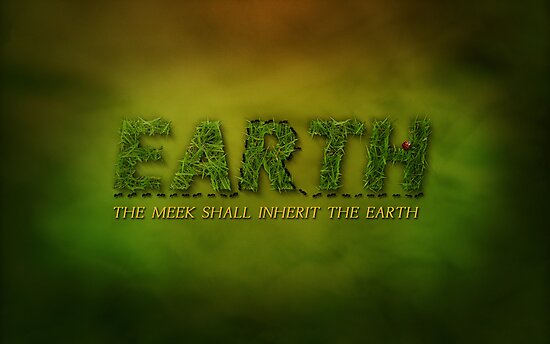 Jesus was teaching. Go figure. He said, "Blessed are the poor in spirit, for theirs is the kingdom of heaven...Blessed are the meek, for they shall inherit the earth...Blessed are those who are persecuted for righteousness' sake, for theirs is the kingdom of heaven" (Matt. 5). Interesting that he uses this passage out of the Psalms: "Refrain from anger, and forsake wrath! Fret not yourself; it tends only to evil. For the evildoers shall be cut off, but those who wait for the Lord shall inherit the land [earth]. In just a little while, the wicked will be no more; though you look carefully at his place, he will not be there. But the meek shall inherit the land and delight themselves in abundant peace...the Lord laughs at the wicked, for he sees that his day is coming...For the Lord loves justice; he will not forsake his saints. They are preserved forever, but the children of the wicked shall be cut off. The righteous shall inherit the land and dwell upon it forever. Wait for the Lord and keep his way,
and he will exalt you to inherit the land; you will look on when the wicked are cut off" (Psalm 37).
If I could summarize this chapter, I would say that it speaks of the preservation of the saints, their inheritance on the earth and God's ultimate justice in dealing with the wicked. The writer urges the people of God to stand strong and walk in his ways, while reinforcing that God will deal with their enemies; the day is coming. Now the question is this, does Jesus use this passage in the same context? Does he stay with the theme of this Psalm? Does Jesus mean the same thing about "inheriting the earth" as the Psalmist does? Read this Psalm in its entirety, and ask yourself, "what is being communicated?" Then read the first seven chapters of Matthew, ask yourself, "what is Jesus' use of this chapter?" Is it in keeping with "inheriting the land", being the proper people of God and waiting on him to act as described in Psalm 37? Who were the enemies of the people in Jesus' day? Were they waiting for the same thing the Psalmist described?